We offer two training programs as of now. One is on Technical Analysis and other is on Fundamental Analysis
Course 1: Intraday Profit Master – Learn Technical Analysis
BATCH 7 Starts 14th October
The course is aimed to give a detailed knowledge on Technical Analysis and Trading Strategies.
This course is designed to give a detailed knowledge on how to select stocks for Day trading and short term trading using technical Analysis. After this course , you will be able to pick stocks for intraday and take winning trades. The course will cover Intraday  trading strategies in detail along with all aspects of technical analysis
Course Details and curriculam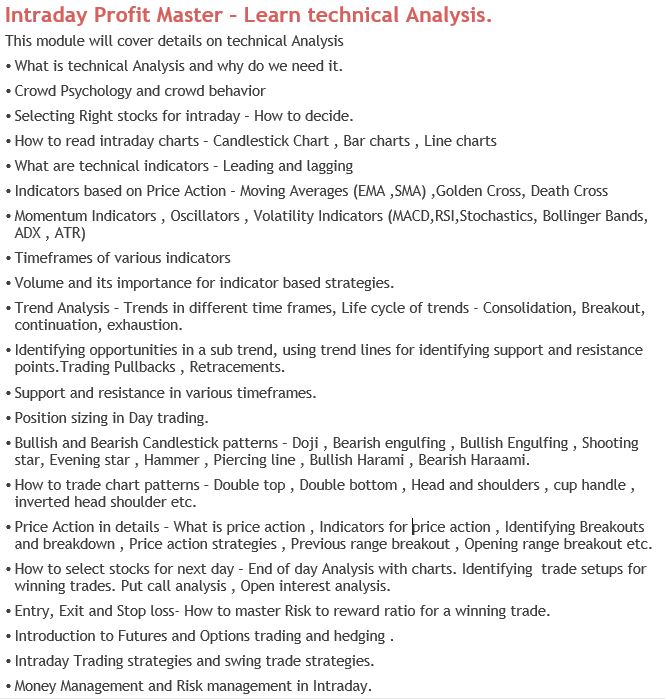 Course Fees :   6500 rs
PAYMENT VIA PAYTM to number 8790928122
Reviews from Students
Practice
★★★★★
"
Course is good , but its all about practice. If you dont work on charts analysis as he recommends, there is not much to gain. Only join if you can study charts 30 minutes daily
"
Good
★★★★★
"
Mohit sir is very good . he explains it so easily and i could understand even after facing ome difficulty in understanding hindi. Full marks
"
Very good course for intraday
★★★★★
"
I joined batch 2 of IPM and now i feel very confident trading. Really money management was all i needed and stock selection techniques are best
"
This course is must have before starting intraday
★★★★★
"
I gained so much perspective into mistakes that i was doing . Phew !
"
9561228472
★★★★☆
"
This is really good course for beginners and advanced level training. I would just suggest to trainor to give demonstration regarding live trending. It will help trannie a lot. Thank you for such wonderful 14 lectures.
"
Best to enhance knowledge base.
★★★★★
"
It is good course to enhance knowledge base. Management is what is important. And mohit sir will explain you very well.
"
Good intraday course
★★★★☆
"
After this course my trading pattern improved genuinely...
"
Profit Master
★★★★★
"
It covers all the topics which are essential to analyze stock. after this course you will be able to trade confidently. The most important thing i get to learn from this course is RIsk Management and Money Management.
"
4.7

out of

5

based on

9

reviews.
Overall rating:
Have you taken this course, Please review below!
NOTE –
=>12-14 Live Classes will be online through Webinar sessions.
=>Classes will be on weekends , for 60-90  minutes each (Tentative time – 10AM to 11.30 AM Sat and Sunday)
=>Classes will be recorded after live , so you can watch sessions later online in case you miss any.
=>You can ask Doubts/Queries during classes
=>Course language is Hindi , Duration is 6 weeks
7th Batch starts from 14th october
***********************************************************************
Course 2: Introduction to Stock Markets And Fundamental Analysis Training Program :
Don't Invest on tips , make your own decisions! Introducing the new Training Program for Stock market beginners  to gain deep insight into Indian equity markets and various asset classes. This training program is aimed at people who are  new to markets and want to learn all things about markets and take their investments to next level. Become and expert in Analyzing Stocks , reading Balance sheet , Understanding different sectors, Choosing Right Entry and Exit  and finding Multibagger stocks!
Course Details and curriculam (Note this consists of pre recorded videos
Course Fees : 5000 rs
NOTE –
=>Access to Recorded lectures Classes will be given .
=>Free support for six months on User queries
=>Course language is Hindi