We are pleased to announce that we have partnered with UPSTOX to provide you seamless Experience on trading and investing. UPSTOX is one of the best discount brokerage in India .It is backed by reputed investors like Ratan Tata . Upstox demat offers zero brokerage on delivery buying and flat 20 rs (or .01% which is lower) brokerage on all other trades in Intraday , Futures and Options. You will be able to save huge money that you are paying to other brokerages.
When you open Upstox demat account online through us , We will provide 7 premium stock market training courses free . You also get free buy sell calls on Telegram as long as you trade. We also provide you access to one of best Stock screener application which will help you pick stocks for intraday.You can also get complete guide on using Upstox Pro Web platform , Upstox pro Mobile android platform and desktop Platform. You can use this direct link to visit account opening page and register details.
Once account is opened successfully , you will be able to avail many benefits and kickstart your investment journey. Call us on our numbers above for any assistance in upstox account opening.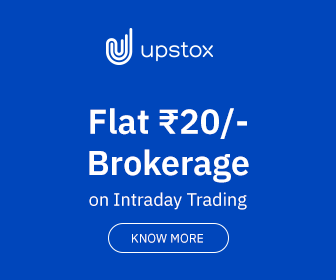 You need following documents to Open Upstox demat account
PAN CARD
AADHAAR CARD
CANCELLED CHEQUE or 6 MONTHS BANK STATEMENT
AADHAAR SHOULD BE LINKED TO MOBILE FOR OTP
Watch Full Video on how to Open Upstox Account
https://www.youtube.com/watch?v=s6Mqd5yPOJs
Note – Free services are given on brokerage share model. For services activation , kindly transfer funds to your demat account and send screenshot(min 10,000) .Your services will be de-activated if your account remains inactive for 20 days after funds transfer .
Also Read